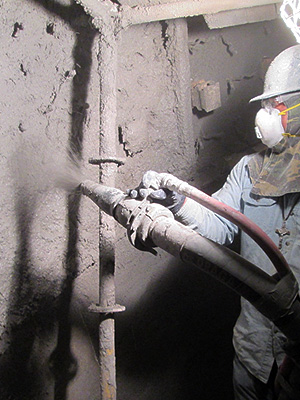 In 2013 Ash Grove Cement, a leader in the manufacture and sale of Portland cement and related construction products, upgraded their Midlothian, TX plant in cooperation with FLS.
After careful consideration, FLS, the project OEM, selected United Refractories Co. to be the bulk provider of monoliths for this project. This selection was awarded based on URC's unique products for the preheater application, a history of ISO 9001 quality, immediate response times and exceptional customer service.
For over an 8 month span United Refractories Co. produced, tested and distributed over 4.2 million pounds of Shotcrete, Pumpables, Gun Mix and Castables for the Ash Grove facility. During that time there were no product quality or consistency issues reported throughout the mixing and installation process.
This translated into zero product oriented delays and a very efficient installation by Southern Refractories, the installer contracted by FLS.
Contact a URC sales representative today to see how we can deliver on your next project. You may also download and review this project's deliver sheet by clicking on the file name below.