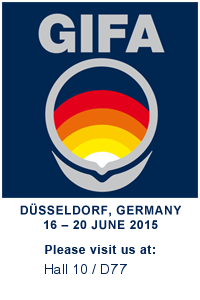 United Refractories Co. will be exhibiting this year at the GIFA Expo in Düsseldorf, Germany, from June 16th through June 20th, 2015.
As the world's largest and most comprehensive foundry technology focused trade show, GIFA provides a fantastic opportunity for URC to not only connect with its existing global network, but reach out to new potential international refractory manufacturing and distribution partners.
From an industry standpoint, URC will focus on Metal Casting for both Ferrous (Steel & Iron) and Non-Ferrous (Copper & Aluminum) applications at GIFA.
URC will be featuring its market leading UNI-RAM VR Coreless dry-vibratable technology, the UNI-SHOT/PUMP RF CF "Gel Bonded" no cement series and its FOUNDRY SOLUTIONS approach for steel and iron applications.
Find United Refractories Co. at GIFA in Hall 10, Stand D77!
Click here for more information on GIFA.
Click here for more information on URC industrial capabilities.