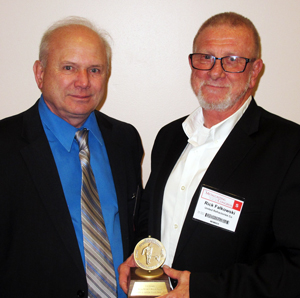 URC's Rick Falkowski received the Excellence in Committee Activity Award (8D Channel Induction Furnace Committee) at the 119th Metalcasting Congress in Columbus, Ohio in April 2015. The annual Congress is sponsored by the American Foundry Society. (AFS)
Falkowski, Area Sales Manager for Wisconsin, has been involved with the committee for 28 years.
The 8-D Channel Induction Furnace Committee:
Assists the industry in answers and solutions to the questions and problems that arise with operation of channel induction furnaces

Seeks new methods and ideas that could enhance industry productivity and profitability

Reports findings to the industry-at-large as fast as possible

Promotes safe channel induction furnace operations as the standard goal and best practice
Held every spring, the Metalcasting Congress features the latest advancements in metalcasting technology and services. Learn more about the Metalcasting Congress at the AFS website.
Good job, Rick!